About Us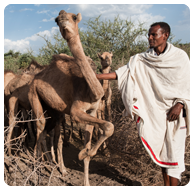 Labata Fantalle is a non-profit grassroots organization that aims to facilitate participatory, community-led development.
Our mission is to support Karrayyu pastoralists during a time of rapid change, using sustainable approaches that are friendly for both people and environment.
Our work enables Karrayyu pastoralists to develop sustainable livelihoods, protect their environments, generate food security and empower themselves.
The Karrayyu are one of the last remaining Oromo groups maintaining the pastoralist way of life and traditional Oromo culture, but they are under threat. They have lost large amounts of land to a National Park and agribusiness, which has resulted in loss of traditional grazing lands, water points and religious sites. The remaining land is severely degraded.
The Karrayyu experience frequent droughts. Conflict over grazing and water with neighbouring groups has intensified and many people die every year in the fighting. The majority of Karrayyu households face food insecurity and rely on food aid to survive. In addition the community remain marginalised which is the root cause of many of their problems. The rural areas of Fantalle district are among the least developed parts of Ethiopia. These are just some of the challenges facing the community.
Due to marginalisation and lack of access to education, community members have been unable to assist themselves until recently. The recent emergence of the first Karrayyu university graduates has enabled members of the community to come together and establish an organization for the first time which is not reliant on outside support. As the members of Labata Fantalle are Karrayyu they have a unique insight into the issues facing the community. Labata Fantalle was registered on 19th April 2010 with the Federal Democratic Republic of Ethiopia Ministry of Justice Charities and Societies Agency, in accordance with Proclamation No. 621/2009, under certificate number 1771. We are supported by Labata Fantalle Cymru based in South Wales.