News
Karrayyu attend Italian Cheese Festival
September 17th, 2011 | Author: Fiona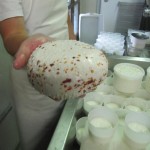 Members of the Karrayyu community, recently attended a Cheese festival in Italy. The trip was organised and sponsored by Slow Food, a global organisation founded to counter the rise of fast food, fast life and the disappearance of local food traditions.
This was Rado Bulga and Shenko Baka's first time travelling out of Ethiopia so initially they were apprehensive as well as excited. During their time in Italy they attended workshops and trainings, shared their knowledge and met members of other African herding communities. Carlo Petrini, the Founder of Slow Food introduced and welcomed the participants and emphasized the commitment of Slow Food to helping Africans gain food sovereignty. "It's already hard to be a farmer in Europe, and in Africa it's three times harder!" The sharing of experience and knowledge between Italian producers and African herders helped to promote a sense of solidarity.
The trip was an amazing experience, Rado and Shenko returned to Ethiopia full of enthusiasm and new ideas. We hope this will be the starting point for developing and promoting Karrayyu milk and cheese production.
To read an article about the event follow this 
link