News
Jeans & Marto: first Karrayyu film!
September 1st, 2011 | Author: Fiona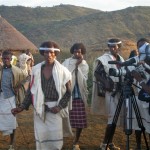 Our very own Roba Bulga has been working for the last 3 years to produce 'Jeans & Marto', a film about his life and the Karrayyu community.
'Jeans & Marto', made in collaboration with Clio Sozzani and Caudia Palazzi, tells the story of Roba's escape from an arranged marriage so he could follow his dream of attending school. His determination to create his own path has led him through a series of amazing events. The film captures the struggles within a family, the internal doubts of a young "fighter," the hope for reconciliation, a terrible drought in the Karrayu lands, the loneliness of city life, an unexpected journey to Italy, the death of his brother killed in an ethnic conflict, and the attainment of his dream – achieving a degree.
Jeans and Martò reveals the complexity of Ethiopia in the new millennium, caught between modernity and tradition, pastoralist and urban lifestyles, and the struggle to adapt to rapid transformation.
The film was launched at the Addis International Film Festival, and has subsequently been shown in Italy. Labata Fantalle Cymru is planning to arrange a screening of the film in the UK next year as a way of developing community links between Wales and the Karrayyu.
See publicity for the film here
See a short clip from the film here